South Florida Real Estate Blog
Helpful Tips, Advice & Articles for Buyers or Sellers
How to Improve Curb Appeal When Selling Your Home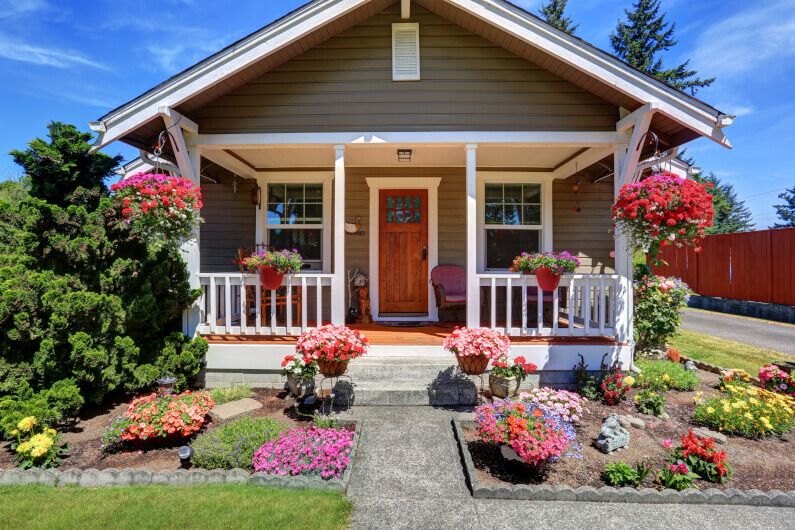 If your home were a book, curb appeal is the cover that buyers would judge it by. That's why homes with good curb appeal usually sell at a higher price. In fact, according to recent data, fixing your curb appeal can boost your home's value by as much as 7%.
The only question now is, how to improve curb appeal. Fortunately, we can help with that.
Contained in the following guide are 11 affordable, practical steps for improving curb appeal. So, before you sell, try these tips and increase your home's value.
1. Look For Yourself
The best thing you can do to improve your curb appeal is to look at your home from the buyer's point of view, literally. Stand across the street and take a good, objective look at your house.
See anything wrong? Write it down.
List everything you see that might turn buyers away. Then, fix any issues you can afford to fix. Remember, most buyers won't look twice at a listing with an ugly picture.
2. Power Wash and Repaint Your Home
Repainting when the paint is cracked, faded, or peeling is obviously a good idea. But, before you do, give your home a good washing.
The paint application will be more successful if you do this. Besides, even if you don't need a new paint job, its current paintjob will look crisp, clean, and new after a power wash.
It's best to hire a professional for these tasks. But you can do them yourself as long as you're careful and you know what you're doing.
3. Front Porch Cleaning
Your front porch should be a lot more welcoming than a mere welcome mat. By all means, though, replace the welcome mat if it's old and dirty. And all the dust, dead leaves, and cobwebs don't help the appearance, either.
So, the first thing you should do for your porch is a deep, detailed cleaning. Sweep away the webs and debris and blast it with the power washer.
Polish your door, doorknob, windows, and flooring. If the flooring is concrete, remove any stains and seal it.
4. Beautify Your Front Door
If your door is still ugly, even after washing it, you have options. It might help to repaint your door to compliment your homes new paint job.
Alternatively, it's not that expensive to buy and install a new door. It wouldn't hurt to do the same with your doorknob and your address numbers, too. In fact, you'd be surprised at what a difference this makes.
Lastly, wreaths are a welcoming decoration in any season, not only Christmas. Check out seasonal wreaths at your local home decor store or florist.
5. Turn Your Front Porch Into a Room
Now, keep decorating your porch until it's as welcoming as an outdoor living room. This could mean extravagant measures, like installing a pergola with climbing vines and curtains.
Or, keep it simple and just add a few live plants. Choose some that are extremely easy to care for, like aloes. After all, if your plants start wilting and turning brown, this does more harm than good to your curb appeal.
Next, add some furniture, especially seating. Remember, though, these items also need to be kept clean and nice. Make sure, then that the furniture is easy to clean and maintain.
6. Beautify Your Windows
All windows should be kept clean and shiny. Clean them from the inside as well as the outside.
Clean the windowsill and blinds, too. In fact, make sure all interior areas that can be seen from the outside are kept tidy.
Next, consider dressing your windows' exteriors with decorative shutters or some nice window planters with flowers.
7. Update Your Lighting Fixtures
Nothing complicated here. If your light fixtures are bland or tarnished, replace them. Also replace the bulbs with an option that shows off your porch in a good light.
As a very cheap but effective alternative, you might be able to clean tarnished fixtures and paint them black.
8. Update Your Mailbox
If your home has a mailbox, it's probably the standard, boring type provided by the postal service. Replace it with a more unique and decorative mailbox from a hardware or home decor store. It will probably cost less than $30 dollars but it makes a huge difference to your curb appeal.
9. Fix Your Lawn
If your lawn is in really bad shape, it may cost a lot to tear it up and resod it. However, a nice-looking lawn is a mandatory part of good curb appeal.
Besides resodding, you need to keep up on maintenance. Water appropriately, keep it mowed, and fertilize/spray for weeds twice a year.
10. Plant Fresh Flowers
If you've got a green thumb, decorate your housefront with live flowers. This looks amazing to your buyers, although it takes a lot of maintenance to keep flowers nice. So, don't attempt this unless you're good with gardening.
11. Add Trees and Bushes
If your front lawn looks too plain, consider planting a nice, decorative tree. Many lawn trees require no maintenance at all because they get enough water from the sprinklers and they don't grow too large. Just don't get any trees that will drop a bunch of fruit everywhere, like plum trees.
You can also add bushes to line overly plain walkways.
Remember This Guide on How to Improve Curb Appeal
Most of these tips require very little time and money. So, you've no excuse not to try them out.
Remember this guide, follow these tips, and watch your home's value increase. Also, please share this guide on how to improve curb appeal with other home sellers you know.
Need some more help selling your home? We'll help you sell your house fast and for a good value.
Plus, we only charge a 4% listing commission. Contact us here to find out more or to get started.
Latest Property & Homes for Sale
View these recently listed Treasure Coast & Palm Beach area properties for sale, or start a customized search.